" People nowadays are more health-conscious than they used to be.The Tourism Authority of Thailand and the Thai government have jointly launched a new campaign, positioning Thailand as a trusted destination for tourists to enjoy health and wellbeing activities. "
– The Tourism Authority of Thailand
Health and Wellness Tourism has become the new normal for Chinese citizens. To resonate and engage better with these Chinese travelers, Tourism Authority of Thailand Beijing Office (hereinafter as "TAT") worked with EternityX to ensure they capitalize on this rising demand and solidify Thailand's position as one of the world's leading destination for healthcare and wellness.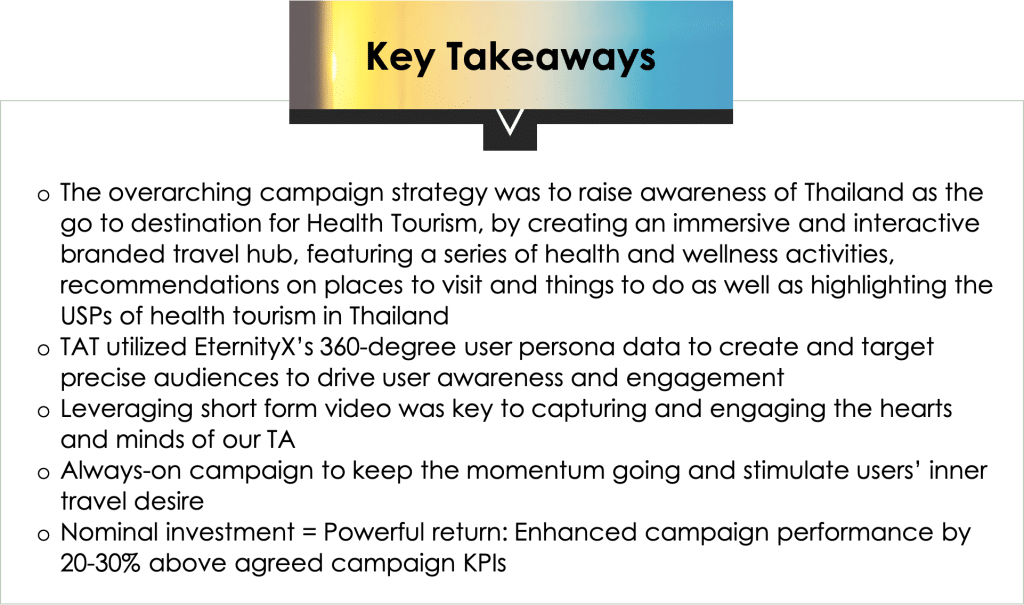 Utilized EternityX's 360-degree user persona data to create and target affluent travel enthusiasts with high spending power (hereinafter as "Affluent") to drive user awareness and engagement.
Customized Audience Segments: leverage a combination of data sources and our platform AI technology to precisely analyse, identify and apply different targeting strategies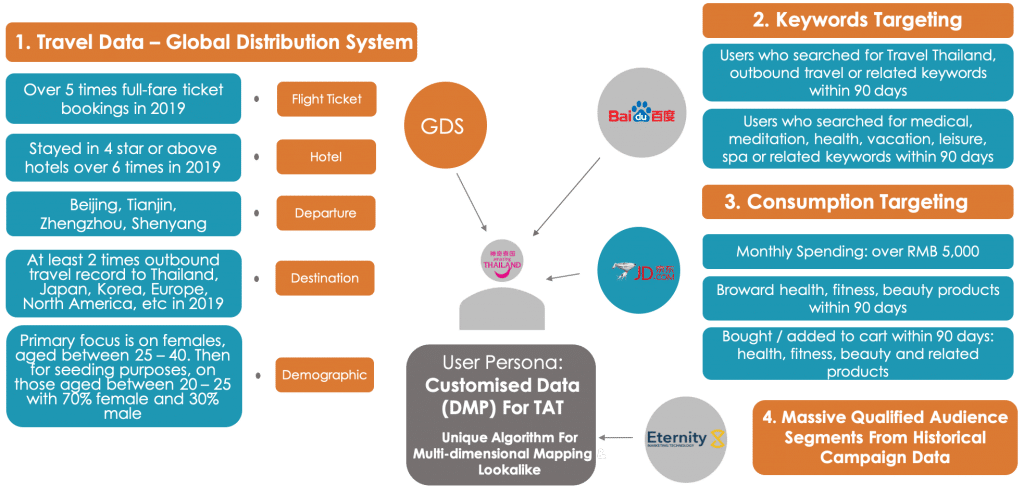 Premium Channel: focus on publishers that are popular with health-conscious consumers including but not limited to iQiyi, WeChat, MangoTV and SoYoung (China's leading Medical Beauty APP)
Transparency: Utilizing third party ad tracking tools such as DoubleClick, Google Analytics to independently track performance
Creative Strategy:
Visualize a medically themed travel itinerary based on TAT's TA
Ad Format: Utilize the most prominent, popular and best performing assets to drive a balance of engagement and performance including Splash Ad, Native Ad and Native Video
H5 Page: Bring target audience on a 'travel journey', featuring a series of health and wellbeing activities, highlighting USPs of health and wellness. tourism in Thailand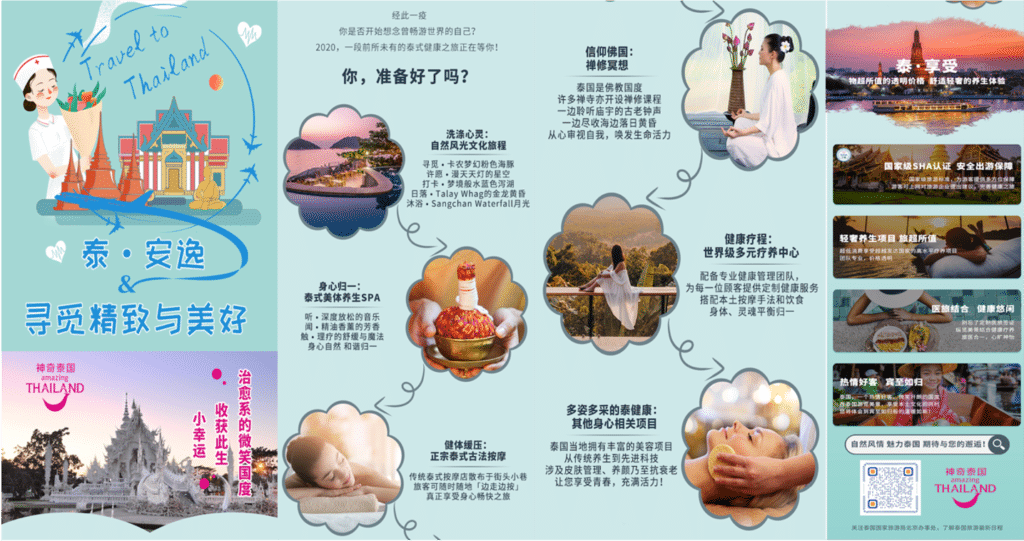 A/B Testing: to identify the audience preference by testing different creatives for real-time optimization and insights for current and future campaigns.
Video (hyperlink to our LinkedIn post will be placed here): Animation (Introduction of health and wellness tourism in Thailand) vs. Short Video (high-end style appealing to international audience). The CTR of animated video has slightly 0.1% higher than short video.
Banner: Scenic landscape vs. health and wellness activities, ads featuring health and wellness are more attention-grabbing.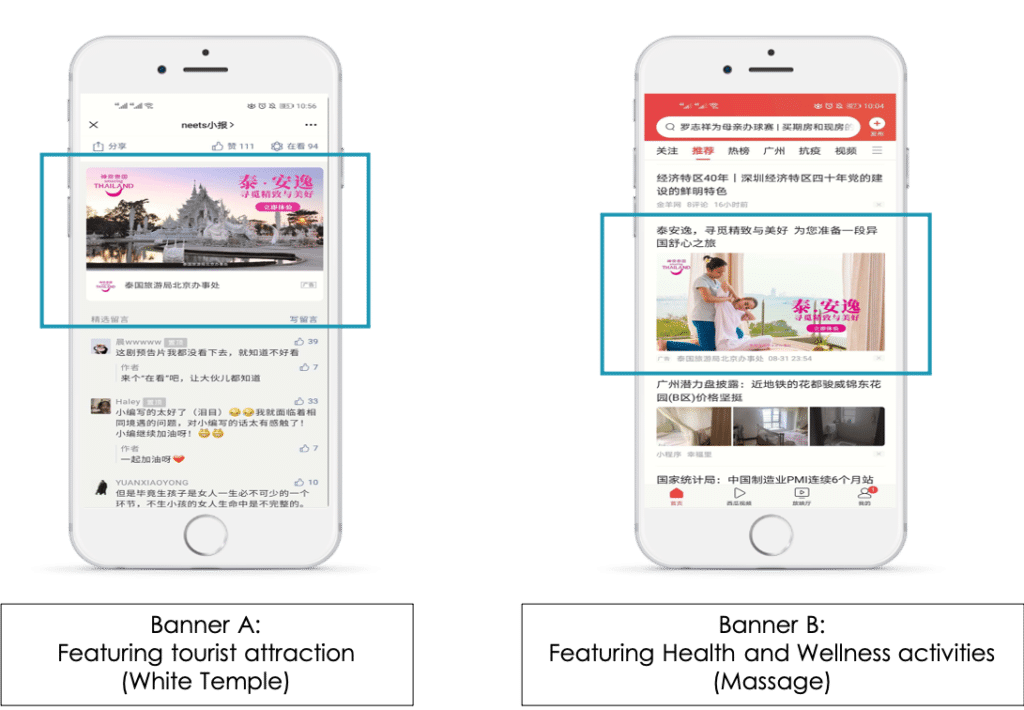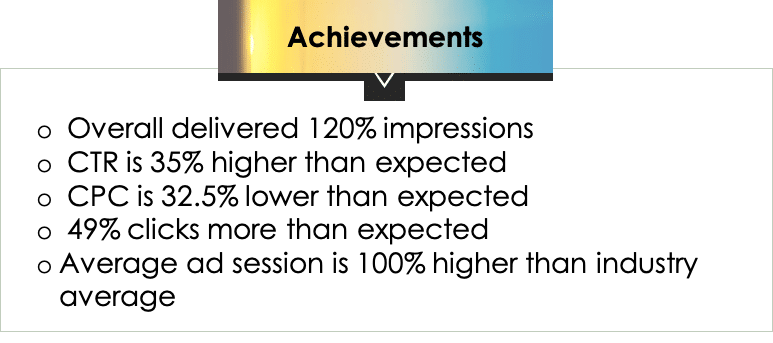 Our recommendations for destination campaigns
Always-on campaign to keep the momentum going: Launching always-on campaign to maintain brand awareness and continue the positive momentum, inspire people to travel to Thailand and for Thailand to become the go to destination when travel restrictions relax.
Interactive content to build brand relationship: Placing interactive elements such as lucky draw or gamification on landing page, creating a unique and immersive experience to increase dwell time and data capture opportunities from the audience will lead to a much higher impact on engagement and purchase intent.
Short videos are the new battlefield to capture millennials travelers:Short videos have become a key tactic for brands to reach and engage their customers in recent years. Thus, allocating more digital budgets to native videos will improve brand recall and continue to build the brand's overall awareness in the current challenging environment.