As China's leading AI marketing platform, EternityX provides international brands with real-time connections to highly desired Chinese consumers
Regional expansion will help brands better engage their target consumers and generate more cost-effective and productive digital campaign results
APAC, 1 February 2021 –– Leading AI marketing platform EternityX announces its new office opening in Sydney, Australia, as part of its overall strategic expansion across the Asia Pacific region. Overseen by Richard Andrew, Managing Director of Southeast Asia and Australia, and led locally by Luke Bussell, Director ANZ, EternityX Australia, the new Sydney office will drive business expansion and strategies across the region. The new office will focus on connecting brands and consumers through cross-border, cross-culture e-commerce and service offering initiatives, such as advanced education, between China and Australia. EternityX has also appointed Tony Skvarc as Sales Director ANZ to work alongside Richard and Luke, with a strong focus on client relationships, Chinese consumers and data-driven campaigns.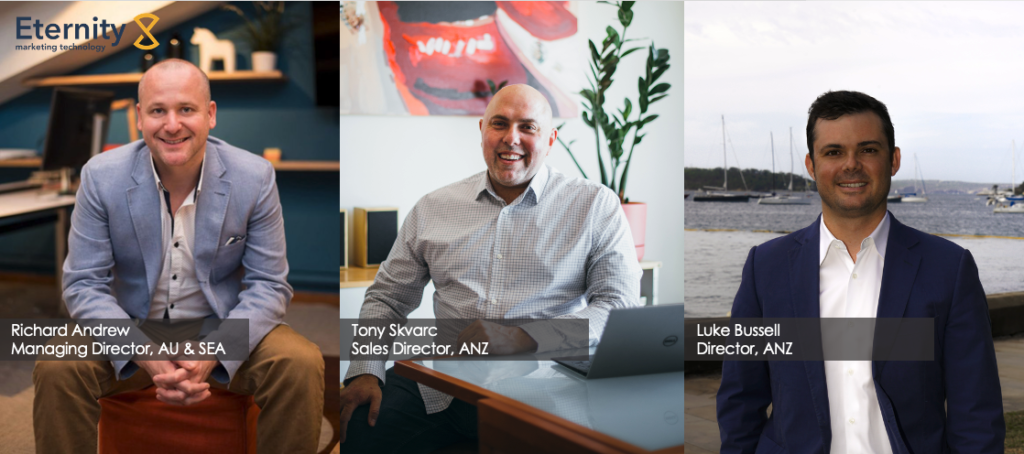 Headquartered in Hong Kong, EternityX has offices in Beijing, Shanghai, Guangzhou, New York, Singapore and now Australia. Since 2018, EternityX has performed 2,000+ campaigns for 300+ local, regional and international advertisers including the likes of Richemont Group, LVMH, Hilton, L'Oréal, P&G, and HSBC. The company's highly advanced platform, professional insights and unparalleled inventory enables agencies and brands to effectively reach hundreds of millions of Chinese consumers in a cost- and time-effective manner, through partners such as iQiyi, Xiaohongshu, Douyin, WeChat and Bilibili.
Charlene Ree, Founder & CEO of EternityX, says, "When planning the expansion of EternityX, we saw Australia as an important strategic market and one of the key cornerstones in our expansion across the Asia Pacific region. 2020 has been a difficult year for businesses of different sizes navigating through the pandemic. China's continued economic growth offers a highly important market for businesses around the world, including Australia, for growth and partnerships. With our strong background reaching Chinese consumers, we are pleased that our new Sydney office opening will help brands better connect with this audience and realise significant untapped potential. Furthermore, Australia has a vibrant community of 1.2 million Chinese Australians[1]. With this move, we strengthen our position as the cross-cultural and cross-border bridge connecting regional and global brands with not only the mainland China market, but with local Chinese communities abroad."
"Last year, we saw a 400% surge in clients across an increasingly diverse client portfolio spanning finance, insurance, property and education industries. During the uncertainty of the pandemic, we successfully helped these companies boost their digital marketing by 40%. While we collectively work together to navigate the challenges of the new normal, we are looking forward to bringing our positive momentum to the huge opportunities in the Australian market. With our solid network of local partners, we are confident that we will grow our business – and by extension, our clients' businesses – in the region."
Richard Andrew, Managing Director, Southeast Asia and Australia comments, "The Chinese media landscape is complex and ever evolving and companies need help staying on top of the best ways to reach their targets. While short videos and live streaming have long been used to build continuous engagement, the increasing influence of Key Opinion Consumers (KOC) is a trend that is hard to miss among Chinese consumers and communities. Different from the celebrity-driven KOL scene, personable KOC personalities have a more down-to-earth friend-like appeal to consumers and so their product recommendations often carry more real-world weight on purchasing decisions."
When discussing the Chinese Australian consumer, EternityX sees emerging opportunities. While travel restrictions and varying social distancing measures remain in force, consumers are more active on social media platforms as they seek to connect and interact virtually, making it essential for brands to strengthen their online presence. According to EternityX's recent Chinese Australian consumer survey, Chinese streaming services attract 183% more viewers from non-English speaking households compared to free-to-air TV. The research also shows that lifestyle and shopping platform Xiao Hong Shu (Little Red Book) has 35% more regular Chinese Australian users than mainstream Weibo.
Richard Andrew further comments, "It is the right timing for brands to be building connections and relationships with Chinese Australians, one of the largest communities in Australia. To bridge this gap, we advise our clients on crafting campaigns that are most relevant to Chinese Australian consumers. We see that localised content for e-commerce and social commerce channels are absolutely essential in order to gain traction within the community, as our survey showed that 2.4 times as many Chinese Australian consumers reported being more likely to purchase from a brand that makes the effort to advertise in Chinese on Chinese media platforms; localisation is simply the first step to becoming top-of-mind."
As China's leading AI omnichannel marketing platform, EternityX derives real-time insight into Chinese consumer behavior – what they need, when and how to reach them, effectively eliminating the significant guesswork and challenges that EternityX's international clients previously faced in the Chinese digital landscape. With a client retention rate over 90%, EternityX's expertise, precise audience targeting and auto-optimization boast a successful track record of enhancing clients' digital marketing performance by a minimum of 20-30%. For more information on the EternityX platform and case studies, please visit https://eternityx.com/
About EternityX
Connecting regional and international brands with the Chinese market, EternityX is an award-winning AI-empowered open-to-connect marketing technology platform. With advanced multi-dimensional audience profiling to comprehend audience needs throughout the consumer journey, we can precisely reach your consumer through premium sites & apps programmatically. Our international team offers one-stop customized solutions everywhere, helping marketers overcome all obstacles and build a business intelligence strategy that increases brand-consumer lifetime value and maximizes campaign effectiveness.
---
[1] 2016 Census of Population and Housing