Estimated reading time: 4 minutes
EternityX was awarded with the Best Programmatic Trading System/Tool/Platform and Rising Company of the Year Award in the 11th China Classical Communication Tiger Roar Award Ceremony held on August 26, 2020 in Shanghai. The Tiger Roar Award is one of the most prestigious and influential awards in the digital communication industry in China, and EternityX is proud to have captured such honour this year.

EternityX is a leading AI-empowered open-to-connect marketing technology platform in China. The Company empowers brands to overcome obstacles in the complex China digital landscape, maximizing campaign results. We value and are proud of our advanced technology, product advantages, rich industry experiences and workplace transparency. In the coming future, we will continue to dedicate our full effort in empowering global marketers to connect and convert Chinese consumers.

Success Story —— Bvlgari
In August 2019, Bvlgari's travel retail team targeted affluent Chinese outbound tourists who had travel intentions to Japan, South Korea, Singapore, Europe, Australia, the United States, and other countries during the fall Golden Week in China. To capture consumers' spending potential during Golden Week, Bvlgari reintroduced its best selling jewellery collection on its official website, placing such products at the top of affluent consumers' shopping list. In addition, Bvlgari also provided free store-to-store shuttle services in order to drive foot traffic to its retail stores. EternityX allocated budget for both pre-trip and during the trip targeting, successfully heighten brand top of mind presence as to these targeted consumers, improving influence on their purchasing decisions and increase foot traffic into Bvlgari's physical retail stores across the globe.
To accommodate Bvlgari's brand positioning and needs, consumers were categorized into High Net-Worth Individuals (RMB30,000 or more in monthly spending) and Affluent (RMB10,000 – 30,000 in monthly spending) with digital advertisements placed before and during the Golden Week. Empowered by our data management platform, keyword strategy focus was formulated, enable precise reach of intended audience. We assisted Bvlgari in effectively identified High Net-Worth Individuals who are those consumers that love travelling, shopping for luxury items, flying in first class, staying in four-star+ hotels, searching for travel and brand-related information on Baidu and purchasing luxury items on JD.com. We also identified those who have searched outbound travel or related terms or luxury brand terms on Baidu in the last 30 days as Affluent. Based on such data and our technology, we are able to form 360-degree user portraits with in-depth understanding of such target audiences, designing appealing content that will captivate them, maximizing campaign results.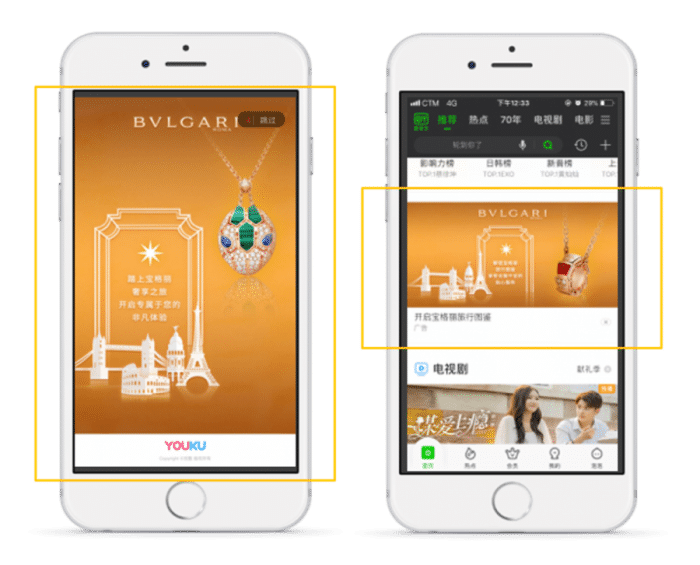 We placed splash ads and native ads from midday to evening on media platforms such as iQiyi, Sina, Youku and Mango TV, targeting pre-travel passengers. We also placed ads in shopping paradises such as Paris, Rome, Milan, targeting Chinese travellers who have high spending power and love luxury goods. We launched ads on selected apps such as WeChat, Weibo, Meitu, Moji, etc. that are commonly used by the targeted audience even while traveling, ensuring constant brand exposure during their trips.