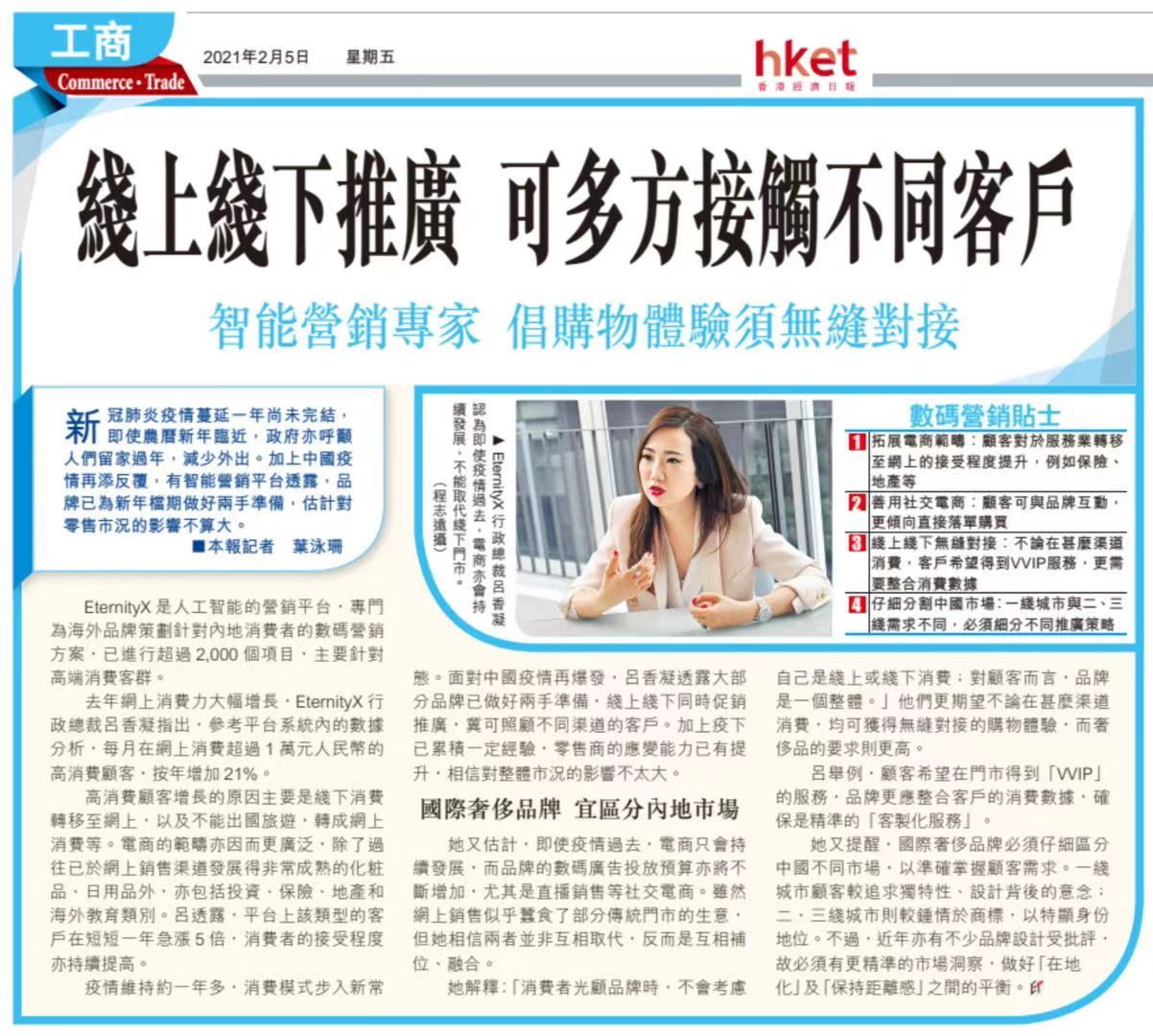 In the eyes of many, online shopping was always about fast-moving consumer products. After 2020, is this still the case?
COVID has definitely accelerated the shift of brick and mortar retail to e-Commerce. According to EternityX platform data, affluent customers who spend more than RMB10,000 online each month has increased by 21% year-on-year. Reasons mainly due to the shift of offline to online shopping and the increase in spending domestically since international travel is currently limited.
There are now more products available online than ever before. This ranges from not only physical products, but service products as well, such as advanced overseas education (online / offline), financial products such as investment products, insurance, real estates, have become increasingly popular. We have seen a 400% increase in clients that offer such services with an increase in the receptiveness of affluent customers to such services since the pandemic.
The current pandemic has lasted for more than a year, and consumption patterns have settled into a new normal. Brands are now well-prepared to juggle and transition between both online and offline promotions to accommodate consumers from varying channels. Moreover, through the experiences from the past year, retailers have become resilient with enhanced ability to quickly adopt to changing conditions , and we believe COVID will have minimal impact as to overall market environment.
Will online shopping replace Brick-and-Mortar retail?
While online shopping provides plenty of convenience for shoppers, digital transformation is changing Brick-and-Mortar retail. However, I believe their relationship is neither competing nor replacing, but instead they complement each other.
Do you think the growth of e-Commerce will slow down post-COVID?
Even when the pandemic is over, e-Commerce will only continue to grow and brands will also continue to increase their digital marketing budgets, especially for social commerce. Social commerce has transformed from a non-mainstream advertising channel to an essential strategy for all brands. They enable direct interactions with consumers that enhance shopping realism, providing the possibility to exponentially increase conversion rates.
Does online shopping means weaker customer service?
When consumers purchase from a brand, it matters little to them whether it is online or offline, and they expect a high level, seamless, shopping experience either way. Brands should integrate customer data online and offline to ensure that physical stores provide the right "customized services".
Is there an "One-size-fits-all" digital marketing solution for all luxury brands?
Luxury brands should carefully segment the China market in order to accurately comprehend the varying consumer needs in this vast space.
Taking luxury goods as an example. Consumers from Tier 1 cities tend to value products' uniqueness and the story behind the design, while consumers from Tier 2/3 cities tend to prefer well-known brands that potentially contribute to greater social acceptance and status.
On the other hands, many brands have in recent years released numerous items that are rather controversial. Brands must conduct more in-depth market analysis to customize strategies for the different segments.
The original article appeared in Chinese.  English translation provided for reference.