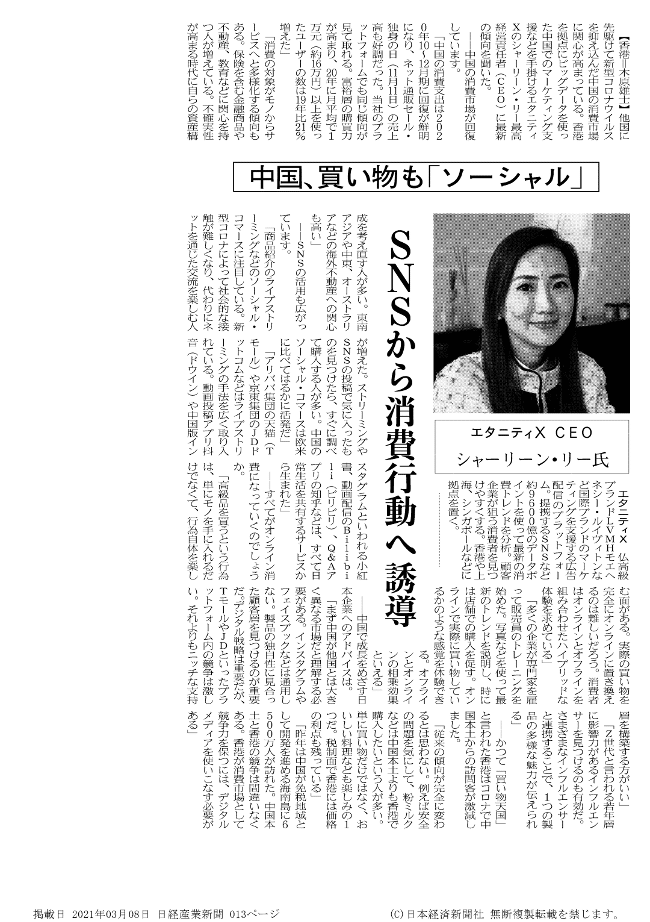 There is growing interest in the Chinese consumer market, which has suppressed the new coronavirus ahead of other countries. Nikkei for the feature in Japan, a world-renowned media brand for Asian news, has invited the CEO of EternityX, Charlene Ree to introduce comprehensively the new trend on the contemporary market in China.
How does it prove China is having a recovery in its economics?
China's consumer spending showed a clear recovery in the October-December period of 2020, and sales on online shopping sale and Singles' Day (November 11) were also strong. The same trend can be seen on our platform. The purchasing p<>wer of the wealthy has increased, and the number of users who spent an average of 10,000 yuan or more per month in 2020 increased by 21% compared to 2019.
There is also a tendency for consumption to diversify from goods to services. More and more people are interested in financial products including insurance, real estate, education, etc. Rethinking their asset composition in an era of increasing uncertainty There are many people. There is also a high interest in overseas real estates such as Southeast Asia, the Middle East, and Australia.
How could China's market be expanded by SNS?
We are paying attention to social commerce such as live streaming of product introductions. The new corona has made social contact difficult, and more people are enjoying interaction via the Internet instead. What I like about streaming and SNS posts Many people look up and buy immediately when they find it. Social commerce in China is much more active than in the West.
Tmall (Tmall) of Alibaba Group and JD.com of Keito Group have widely adopted the live streaming method. Video posting application Doin and Xiaohungshu called Chinese version Instagram, video distribution Bilibili, Q & A app Zhihu, etc. were all born from services that share everyday life.
Is everything going to be online consumption?
The act of buying luxury goods is more than just getting things, it's also about enjoying the act itself. It will be difficult to completely replace the actual shopping online. Consumers will go online and offline. I'm looking for a hybrid experience that combines them.
Many companies have hired specialists to start training salespeople. Use photos to explain the latest trends and sometimes encourage in-store purchases. It feels like you're actually shopping online. It can be said that it is a synergistic effect of offline and online.
What advice do you have for Japanese companies aiming for growth in China?
First of all, we need to understand that China is a very different market from other countries. Instagram and Facebook do not work. It is important to find a customer base that matches the uniqueness of the product. Digital strategy is important, but Competition within platforms such as T-Mall and JD is fierce. It's better to build a niche support layer than that.
It is also effective to find influencers who have an influence on Generation Z. By collaborating with various influencers, the diverse appeal of one product can be conveyed.
In Hong Kong, which was once said to be a "shopping paradise," the number of visitors from mainland China has dropped sharply in Corona. Would the development of China's SNS advocate mainlanders to visit Hong Kong?
I don't think the traditional trend will change completely. For example, many people want to buy powdered milk in Hong Kong rather than in mainland China because of safety issues. I'm looking forward to not only shopping but also delicious food. One. Hong Kong still has a price advantage in terms of taxation.
Last year, 65 million people visited Hainan Island, which China is developing as a duty-free area. There is definitely competition between mainland China and Hong Kong. Hong Kong needs to master digital media to remain competitive as a consumer market.
The article appeared in Japanese.  Google translated version provided for reference.