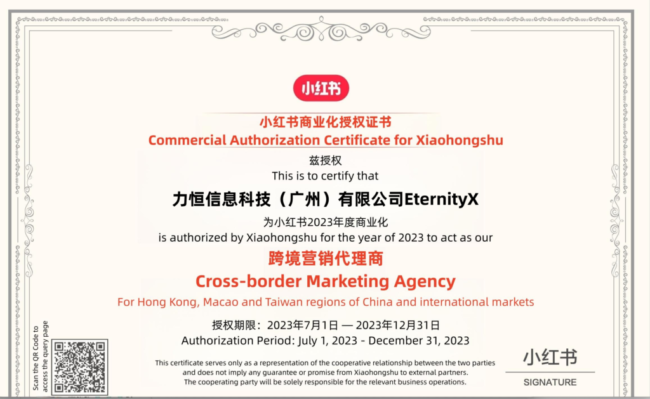 Hong Kong, 21 August 2023 – EternityX proudly announces its official reseller partnership with Xiaohongshu, a prominent Chinese social media platform renowned for its user-generated content. This strategic alliance solidifies EternityX's position as China's leading AI programmatic marketing platform, empowering international brands to scale up in China and effectively reach their targeted Chinese consumers. 
With over 200 million monthly active users, who publish more than 3 million posts daily, Xiaohongshu is a popular Chinese lifestyle guidebook and a search engine among Chinese online shoppers. With its widespread influence and usage in China, Xiaohongshu is well-suited for word-of-mouth and influencer marketing.
"We are thrilled to be an official reseller of Xiaohongshu," said Charlene Ree, Founder & CEO of EternityX. "We have always been staying ahead of the China digital landscape, sourcing the most effective marketing channels and offering strategic solutions to help brands reach their desired Chinese consumers. Given the large community and innovative ad formats, Xiaohongshu is an ideal Chinese social media that brands should not miss."
As an official reseller of Xiaohongshu, EternityX will continue to provide a full range of high-quality Xiaohongshu marketing services. From professional account set-up and support, content creation, data-driven KOL partnership, and high-impact paid ads service, we strive to drive values and business growth for brands. With EternityX's total Xiaohongshu solutions, brands can effectively seize opportunities in the Chinese market and precisely engage Chinese consumers, whether your goal is to enhance brand awareness, drive engagement, or maximise sales.
About EternityX
Connecting regional and international brands with the Chinese market, EternityX is an award-winning AI-empowered open-to-connect marketing technology platform. With advanced multi-dimensional audience profiling to comprehend audience needs throughout the consumer journey, we can precisely reach your consumer through premium sites & apps programmatically. Our international team offers one-stop customized solutions everywhere, helping marketers overcome all obstacles and build a business intelligence strategy that increases brand-consumer lifetime value and maximizes campaign effectiveness. For more: https://eternityx.com/