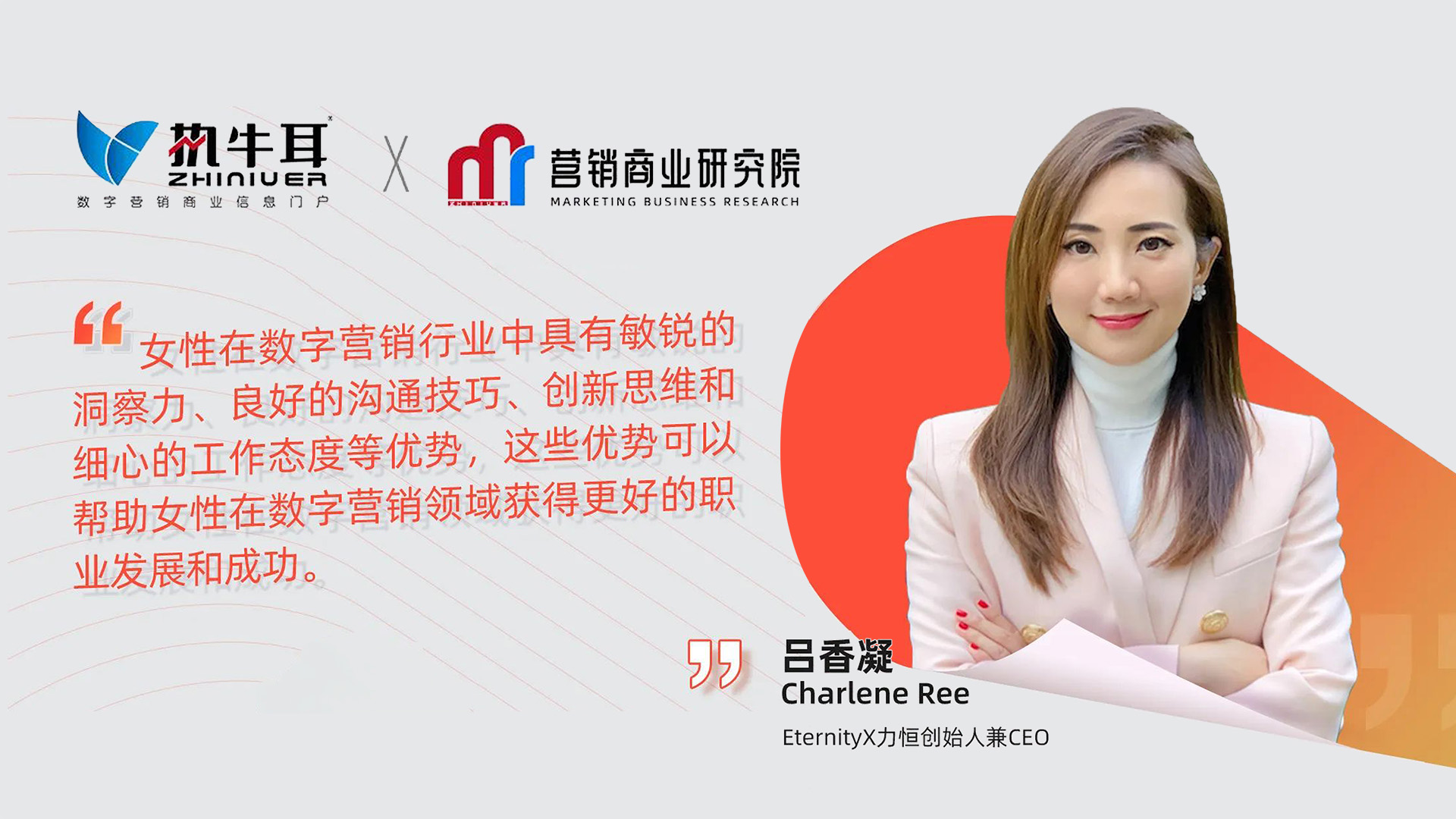 Charlene discussed with Zhiniuer on the transformations in the marketing industry, including the rise of female marketing and the factors influencing the purchasing decisions of modern women. To market to women and remain competitive, Charlene believed that brands should customize marketing strategies and solutions that cater to the needs of female consumers. It is critical to be mindful of the whole female experience. She also highlighted females' strengths in the industry, including their ability to think critically and communicate effectively. Last but not least, Charlene encouraged women to believe in their abilities and shine brightly in their respective roles. Read the translated coverage below!
Zhiniuer: What are the greatest changes in the digital marketing field?
Charlene: The digital marketing industry has greatly transformed in the past two years. For example, with greater emphasis on privacy and data protection, digital marketers need to re-examine their data collection and usage methods.
The application of artificial intelligence and automation technology is also more prominent. With the capability to process a large amount of data in milliseconds, AI technology can help marketers better understand their target audience's needs, preferences, behavior patterns, and purchase intentions and to develop more accurate marketing strategies accordingly. In addition, the technology can automatically create marketing materials such as copywriting and ad creatives including videos and images automatically.  This helps to greatly reduce marketing costs and improve efficiency.
As digital technology advances, more digital marketing channels are emerging, and brands mainly focus on the changes in channels. They need to continuously understand market trends and consumer needs and adjust marketing strategies and channel choices accordingly, and make good use of new technologies to capture consumer attention.
Zhiniuer: Why do you think are the factors leading ot the rise of "female marketing"?
Charlene: Female marketing is a growing trend that cannot be ignore. On one hand, the female consumer market is huge. According to Accenture, China has nearly400 million female consumers aged between 20 to 60, who contribute to 10 trillion yuan in annual consumption spending. The emergence of e-commerce have also greatly transformed the shopping behaviors of female consumers of all age groups and social classes. On the other hand, as women these days have higher disposable income and self-awareness, they are more willing and able to purchase lavish and high-end products. Their demands for fashion, beauty, health-related products, entertainment and other product categories are also growing. As such, brands have begun to pay more attention to the female market, such as developing more female products and services and adopting more precise marketing strategies.
Zhiniuer: What are some factors affecting female's consumption decisions?
Charlene: Modern females often juggle between multiple roles, and the factors influencing their consumption decisions are also more diverse than ever. The internet has brought great convenience to female consumers, enabling them to access product information through various channels, no longer limited to e-commerce platforms and peer recommendations. For instance, purchases through "planting seeds" and content recommendations on e-commerce platforms are becoming increasingly common. At the same time, purchases for self-pampering among womenis getting more popular. They are also more willing to pay for "practical and exquisite" products. According to the 2022 Women's Consumption Trend Report, the proportion of self-enjoyment consumption among females significantly increased in 2021. The amount spent on self-enjoyment consumption also surpassed that of family-oriented consumption, accounting for 54% of total spending. Brands need to put more emphasis on product innovation while meeting females consumers' needs for recognition.
Zhiniuer: If you could choose to remove a gender label against females, what would it be?
Charlene: Stereotypes: Alpha females are seen as determined and competent, while those who are friendly and approachable are considered to be less capable. Female are more perceptive, equipped with excellent communication skills, innovative thinking, and  meticulous working attitude. These strengths can help women achieve better career development and success in the field.    
Zhiniuer: How Can Female Marketers achieve work-life balance?
Charlene: Females in management usually face more pressure and challenges in the workplace. To juggle between different roles, women need to find their point of equilibrium, learn their limits, and pay close attention to their physical and mental health. I advice businesswomen to develop good time management skills, prioritise tasks and seeking external assistance, such as making good use of AI and other technologies to improve work efficiency. It is advisable for women to refrain from setting unattainable goals, as it can lead to excessive stress, ultimately hindering their progress and potential for growth. Last but not least, stay agile all the time. In terms of work, companies need to cultivate their own corporate culture, build a goal-driven team to achieve efficiency, and be inclusive and empower female employees . Result-driven, transparency, and strategic consistency are some key values that brands should uphold. In terms of personal life, women should focus on developing healthy habits, maintaining good skincare and fitness practices, learning constantly, and staying curious. I firmly believe that every woman has her own unique traits. As long as they believe in themselves, they will definitely shine in their respective positions and create a positive impact on society.