Join EternityX's Seminar for Exclusive Insights and Key Sharing from Ocean Park on Elevating Travelers' Experience with Omnichannel Solutions!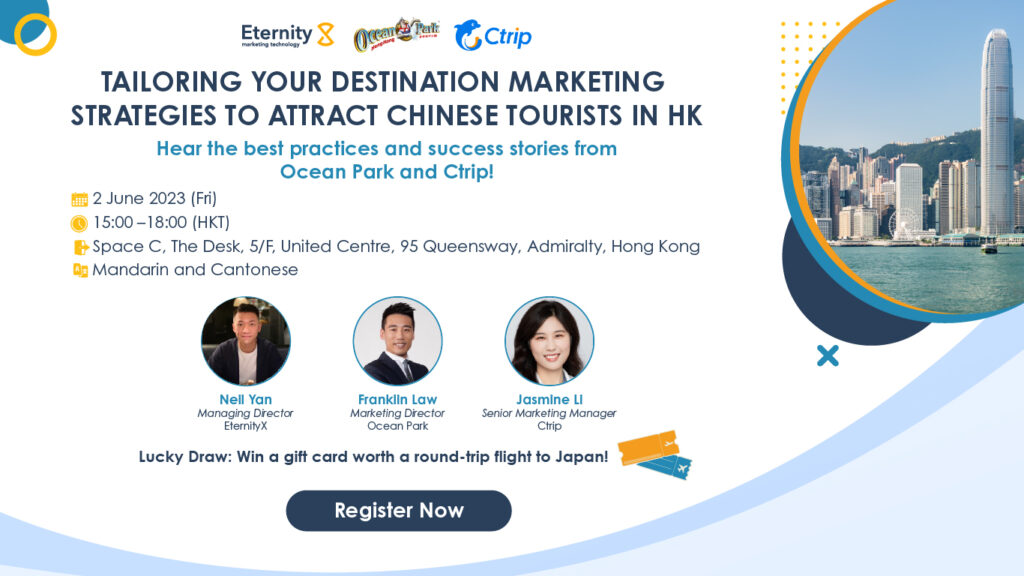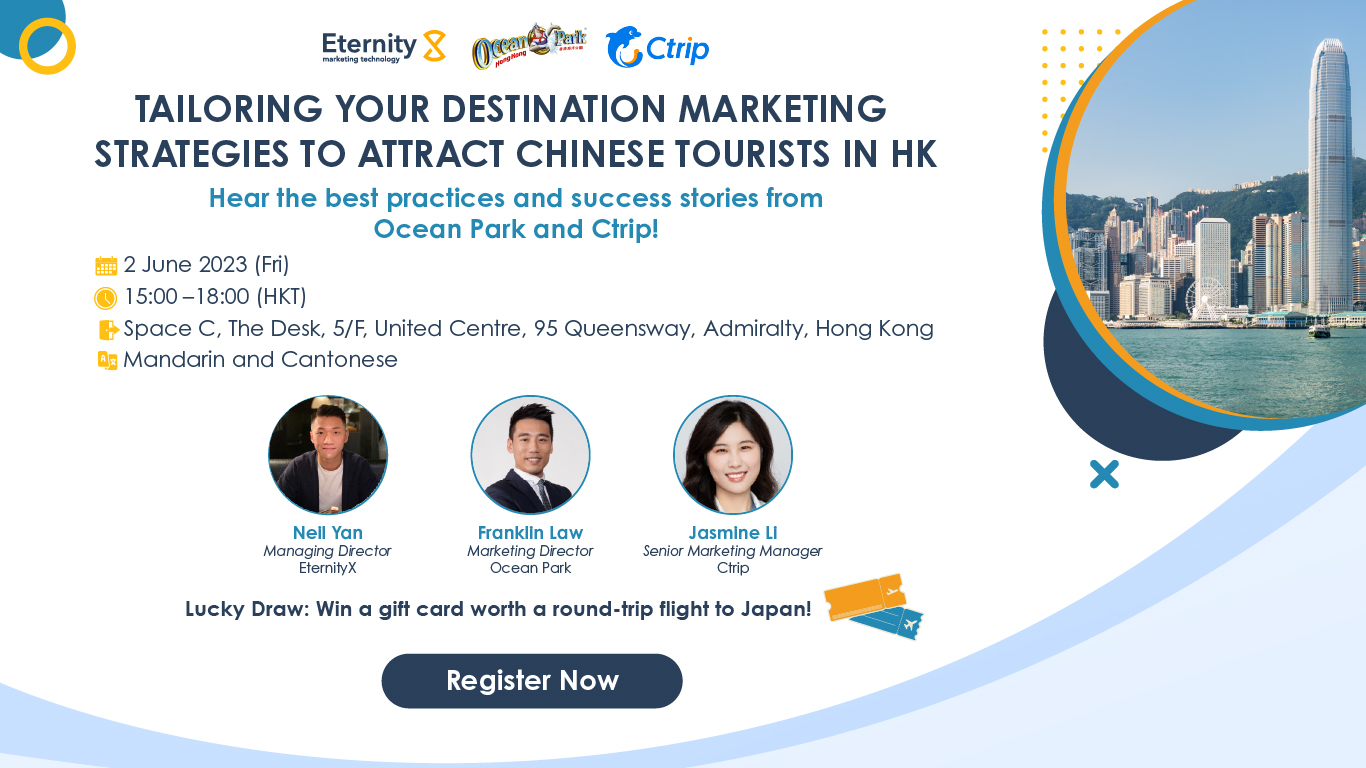 Image Download Link: https://we.tl/t-sUGmpa1C7V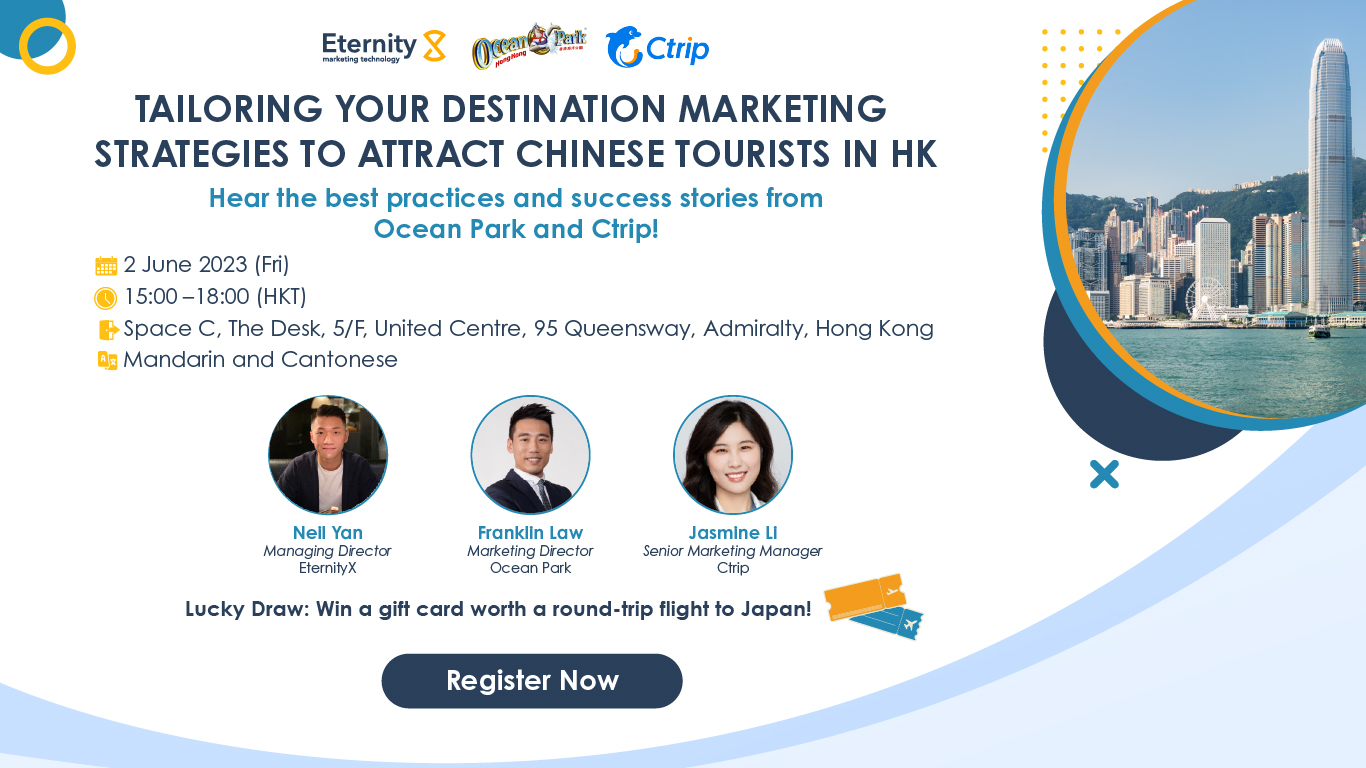 Hong Kong, May 9, 2023 – EternityX, Ocean Park, and Ctrip have partnered to bring you an exclusive seminar that will reveal invaluable insights into the behaviors and trends of Chinese travelers during the upcoming summer holidays. The seminar aims to help brands target Chinese tourists with precision marketing strategies by sharing data and success stories.
Taking place on June 2nd at The Desk (Space C), 5/F, United Centre, 95 Queensway, Admiralty, Hong Kong, from 3-6 pm, attendees can expect to learn about Chinese traveler insights, including data related to their visits to Hong Kong during the Labour Day Golden Holidays and forecasts of their travel behavior in the upcoming summer holiday.
Speakers include Franklin Law, the Marketing Director of Ocean Park, a popular destination theme park in Hong Kong.  He will share their key success in targeting Chinese visitors via an integrated solution targeting tourists' full decision-making journey; Jasmine Li, Senior Marketing Manager from Ctrip, the largest online travel agency in China, who will share post-holiday insights regarding Chinese visitors' booking trends, spending power, and preferred travel routes for their trips to Hong Kong. Last but not least, Neil Yan, Managing Director from EternityX, China's leading AI omnichannel marketing platform, will provide insights into how they support marketers targeting Chinese tourists through the utilization of precise data with case sharing on Hong Kong travel retail brands including Manulife and Peak Tram.
"We are excited to host this seminar with our partners to help HK brands to understand Chinese travelers' behaviors and trends better. By sharing insights and success stories, we aim to empower marketers to develop marketing campaigns that are both efficient and precise with our AI MarTech solution, said Neil Yan, the Managing Director of EternityX.  
The seminar is open to all interested parties, and registration is free. Don't miss out on this opportunity to gain valuable insights into Chinese travelers' behavior and trends during the upcoming summer holidays.
Attendees can register through https://bit.ly/3paorQF.
About EternityX
Connecting regional and international brands with the Chinese market, EternityX is an award-winning AI-empowered open-to-connect marketing technology platform. With advanced multi-dimensional audience profiling to comprehend audience needs throughout the consumer journey, we can precisely reach your consumer through premium sites & apps programmatically. Our international team offers one-stop customized solutions everywhere, helping marketers overcome all obstacles and build a business intelligence strategy that increases brand-consumer lifetime value and maximizes campaign effectiveness.
Media Contact
Kelly Chan
Email: kelly@eternityx.com
Tel: +852 3711 3025 
Mob: +852 6900 9560