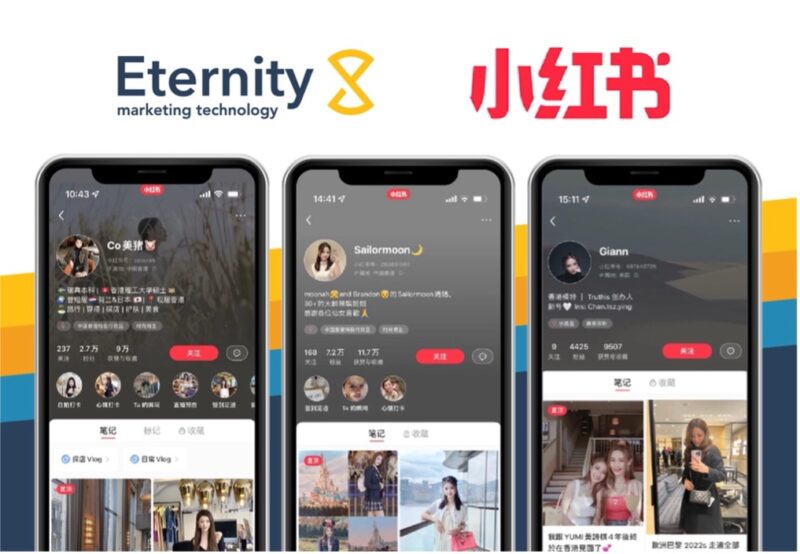 Xiaohongshu (小红书), also called RED or the Little Red Book, is undoubtedly one of the most coveted social media platform in China with over 200 million monthly active users, over 70 percent of them are born in the 90s and over 50% of them are citizens from 1st and 2nd tier cities who are most likely to pursue a more luxurious and trendy lifestyle compared to other social platforms' users such as Kuaishou and Douyin. But do you know that this favoured app is also rapidly budding in HK by ranking among the top 10 apps with the highest download rate?


With the increasing attention from trend-sensitive young audiences, marketers in Hong Kong should leverage Xiaohongshu to create relevant and emotionally resonant content in order to precisely target the HK-based target audiences.   

During the past year, despite the pandemic slump, when it comes to the keywords related to Hong Kong, over 48K of posts are created, top three posts' topics are surrounding " Living in Hong Kong", "Hong Kong Delicacy", "Hong Kong Trending Spots" and " Hong Kong Shopping", showing that Hong Kong is still a huge attraction to many of the Xiaohongshu's users.
Xiaohongshu often treated as the equivalent to the "Instagram of China", which might not be entirely accurate, as Xiaohongshu is a more multifaceted platform with the elements of eCommerce, livestreaming, UGC content and product reviews.
Here is the comparison between two platforms.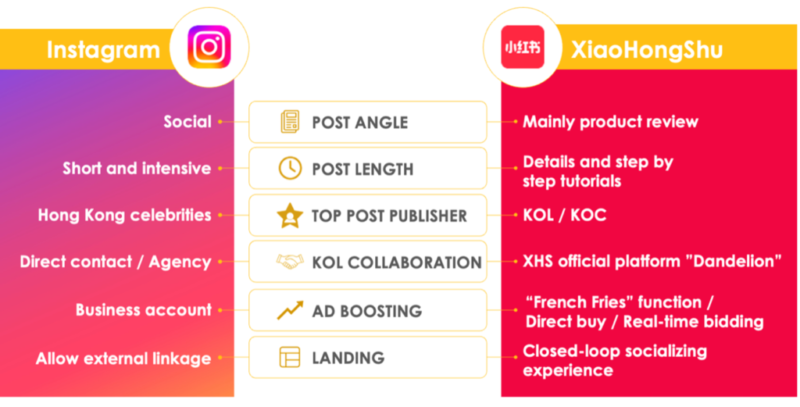 Reports indicate that 52% of the XHS users will consider KOL seeding content before actual purchase, which makes KOL marketing fundamentally crucial when brands want to win the heart of potential customers at the first step.

Starts XHS Marketing with HK Drifting KOLs /KOCs
To sow the seed of desire, authentic and realistic reviews from KOLs/ KOCs are the first step to attracting customers. For HK brands that are just dipping their toes into the Chinese market, it might be too daunting and risky for them to invest thousands of dollars to invite top-tier KOLs and celebrities on Xiaohongshu to feature their products at the beginning, hence the having the mix of micro influencers / HK drifters, on the other hand, would be the more cost-effective to invest in with better control on their creative content and the budget as well.

The Traits of HK-based Influencers on Xiaohongshu
HK Drifters (港漂) commonly refer to young, educated people who move to Hong Kong from China for a certain period to pursue their career or education. The HK drifters who are active on the Xiaohongshu platform usually share the traits of adventurousness, open-mindedness, and having higher education and income. These users would mainly share their lifestyle, fashion, beauty, or local travel tips and "life hack" living in HK, which a lot of mainlanders are fascinated and drawn to.


Three Types of HK-based KOLs / HK drifters on Xiaohongshu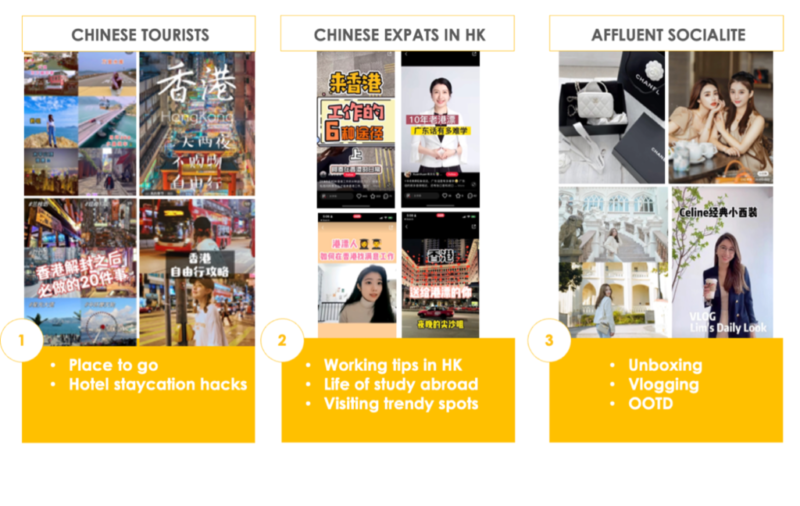 Why Select EternityX for Xiaohongshu Influencers Marketing?  
KOLs/ KOCs  Management and Data-Driven Selection
EternityX owns the inventory of over 100+ HK-based KOLs/ KOCs with 6M of the fanbase and accumulated 23M of interactions on Xiaohongshu
from analysing their fanbase, engagement rate, and brand safety, to digging deep into their past brand connections, EternityX could ensure the KOLs we select are the perfect spokesperson to share the testimonials for the brand.
Content Feed Creation with Trending Keywords and Topics
Incorporating AI-Driven technology, we could precisely identify the most highly viewed and coveted trends, topics, campaign keywords and top performance keywords on Xiaohongshu and to optimize the campaign with the right keywords which could drive more traffic and engagement to the post. Our team of experts would also guide you to compose the approved content and ad copies to comply with the stringent platform regulations.
Strategic Campaign Planning
From nurture, growth to conversion stage, our local team tailors the most ideal marketing approach for advertisers to maximize brand's exposure and greatly shorten the conversion time.
Talk to our team to learn more about the Xiaohongshu KOL Solution!