Sales in Hainan duty-free stores hit record high of more than RMB32 billion in 2020! Many prestigious brands are seizing this incredible opportunity to raise brand awareness and sales. Traditionally, Chinese New Year is the year's busiest travel season, however with International travel still off the agenda, Chinese travelers are now turning to domestic travel destinations like Hainan, which is made even more attractive with the roll out of various policies to attract tourism and to make it even easier for Chinese tourists to purchase duty-free products. As such, Cartier launched an array of campaigns during the Chinese New Year period featuring its luxury items in the China Duty Free to promote awareness and convert duty free shoppers.
Multi-Dimensional Targeting Strategies to Precisely Reach Cartier's Target Audience
With an innate understanding as to Cartier's brand value and needs, we focused on targeting Chinese tourists who are visiting Hainan during the Chinese New Year holiday. Integrating our very own consumer-related data points and third-party data, we refined the targeted audience segment to high-income, frequent business class travelers who have high interest in luxury goods and have previous track records of frequent spending on these items.
On the other hand, since geography plays an important part in creating targeted campaigns, we have also distributed ads to consumers that show up near airports, ferry piers, train stations, high-end hotels in Haikou and Sanya in Hainan or nearby locations.
Furthermore, retargeting the right audience group is critical in a successful campaign. As such, we also focus on retargeting consumers who had visited China Duty Free Group's official website to recapture their interests and enhance conversion.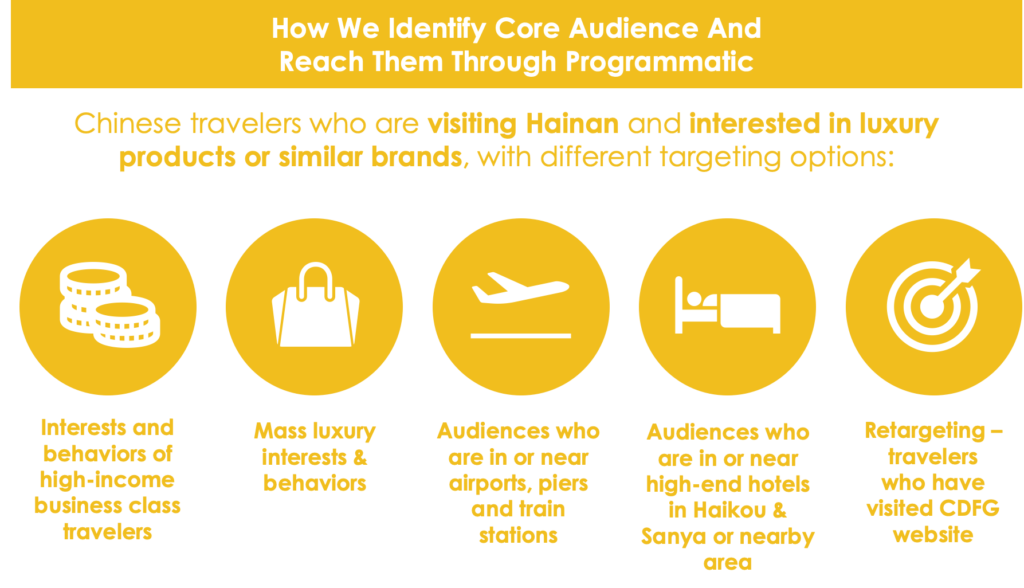 Customized Integrated Marketing Solution to Maximize Campaign Results
Picking the right marketing channels is key in successful marketing campaigns.
We focus the campaign on mobile as Chinese tourists rely heavily on smartphones and tablets while traveling. Splash ads, full-screen ads, WeChat Moments ads are some of the often utilized mobile ad formats. In addition, dynamic video ads are used as users are highly engaged and attracted by this ad format.
Ads are primarily distributed on apps that feature trending videos or news or on utility apps that are commonly used by tourists. Moreover, we also focus on targeting audiences who are already in Hainan, encouraging and prompting them to visit and purchase in duty free stores.

Campaign Tips:
Luxury Brands Can Tap into China's Booming Duty Free Market by…
Launching tailor-made products to target different audience segments (age, gender, interests, etc.)
Preparing and launching in advance eye-catching video or dynamic ads prior to the holiday seasons to capture consumer top-of-mind awareness
Retargeting users who have visited relevant websites / apps to develop relevant look-a-like profile and by leveraging ExternityX's unique consumer-related data points for Hainan to build highly valuable target audience pool
Simple Yet Powerful Offering One-Stop Marketing Solution
Connecting regional and international brands with the Chinese market, EternityX is an award-winning AI-empowered open-to-connect marketing technology platform. With advanced multi-dimensional audience profiling to comprehend audience needs throughout the consumer journey, we can precisely reach your consumer through premium sites & apps programmatically. Our international team offers one-stop customized solutions everywhere, helping marketers overcome all obstacles and build a business intelligence strategy that increases brand-consumer lifetime value and maximizes campaign effectiveness.