" EternityX is a very good business partner, who has shown excellent performance in precision targeting "
– OneFusion
EternityX has recently worked with Sands China and its two iconic hotels in Macau – The Venetian Macau and The Parisian Macao – to kickstart those properties' 1st digital advertising campaign since the start of the pandemic. This comes at the heel of the Chinese government resuming the issuance of visas for visitors to Macau. To seize the golden opportunity, a powerful hospitality marketing strategy is vital to boost hotel booking.

Using EterntiyXs' AI marketing technology platform to precisely target the right audience at the right time with the right message, we not only boosted awareness but also ultimately drove bookings beyond the client's initial expectations.
We worked  closely with Sands China to develop a hospitality marketing campaign, ensuring that we are able to transform target audience characteristics into effective and precise data and targeting strategies. We also closely monitor the overall campaign reach and performance. The below is a sample of the optimization strategies we used:
Targeted consumers aged between 21 to 45, who have shown an interest in outbound travelling, entertainment & leisure activities, Hong Kong, Macao and Taiwan tours, luxury hotels, high-end hotels, five-star hotels, family trips, etc.
Focused on historical data of individuals who have made reservations in Sands China before January 2020 and retargeting those who have visited the official website of the hotels in the past three months.
Leveraged the "Buy-1-Get-1-Free" hotel room incentive provided for all Guangdong residents in all creative messaging.
Deployed location targeting in 1st and 2nd tier cities across China such as in Beijing, Shanghai, Sichuan, Zhejiang, where hotel vouchers were issued to residents with high spending power.
Utilized our dataset to identify consumers who had frequently visited Macau before the current pandemic, those who had booked flights to Macau in the previous 6 months before travel restrictions as well as consumers who had previously booked a four-star rated resort or above in Macau.
Throughout this hospitality marketing campaign with Sands China, our team continuously analysed data with the use of our trading desk to gain insight into campaign performance.  We also adjusted our strategies accordingly to ensure campaign success. Actions taken during the campaign includes:
Dynamic budget allocation based on real-time campaign performance e.g. allocating more budget to ads that have higher exposure rates and high conversion rates.
Continuous publisher vetting and testing resulting in a whitelist of the best performing publishers and creative ad units that were outperforming the conversion benchmarks.
Retargeting audiences who had previously browsed hotel websites owned by Sands China – one of the standout performing group.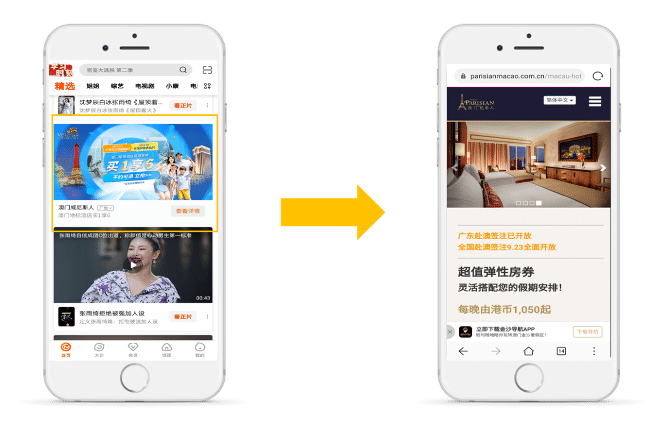 Our recent campaign with Sands China offers a glimpse into the significant consumer travel demand. As we see more and more travel restrictions lift across the globe and travel activities gradually resume, EternityX is optimistic that activities will quickly rebound despite the current period of disruption and believe this is an opportunity for brands to embrace data and technology to continuously evolve brands' marketing strategies. Never has it been more important to utilize technology to communicate with your potential customers effectively and precisely.
Simple Yet Powerful Offering One-Stop Marketing Solution
EternityX is an award-winning marketing technology platform. We have always been devoted to empower global marketers, precisely identify and reach their target audience. Leveraging our advanced programmatic technology, we successfully identified, reached and engaged Sands China's target audience. Constantly analyzing real-time data, boosting hotels' booking rate and optimizing campaign results to achieve beyond expectations. Contact us for a consultation.