EternityX, China's leading AI-empowered Martech platform has won "Innovation Award For Marketing Technology Of The Year" at the 2020 Top Touch Awards. By offering AI-powered targeting solutions to global marketers, our innovative marketing technology enables brands to effectively connect and convert Chinese consumers.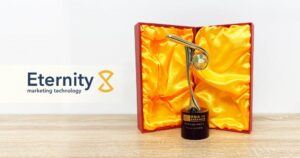 Organized by TopMarketing, Top Touch Awards is one of the most prestigious and influential digital marketing award in the Asia-Pacific region. Its mission is to encourage cross-border connection, foster constant innovation, growth and prosperity in the marketing industry, with the vision of "Identifying Latest Trends and Business Insights that can Change the World". "Innovation Award For Marketing Technology Of The Year" recognizes digital marketers that demonstrated excellence in significantly magnifying campaign efficiency through new technology.
Cutting-edge Technology And Sophisticated Data Analytic Capabilities
Now more than ever, digital marketing strategies are adopted across various channels and platforms. Decisions based on data insights are widely utilized across various industries, from eCommerce to fast-emerging video sharing platforms. EternityX's technology allow marketers, whether brands or agencies, to connect with third-party platforms, database, media resources and third-party tools to enable comprehensive data analysis and fully understand the need of their customers. This enable successful marketing campaign delivery that accurately reach targeted audiences in a data-driven manner, helping brands to gain competitive advantage in the marketplace.
More importantly, EternityX provides brand with strong confidence in the China market. Although technology is important, deep insights as to the China digital landscape is equally indispensable to marketers. With over 960 billion consumer-related data points, sophisticated label system and the ability to connect brands with mainstream Chinese social media platforms such as WeChat, Weibo, Douyin, etc., EternityX enables brands to reach over 90% of Chinese internet users and launch campaigns quickly in China. For brands that hope to accurately reach their target audience in China, EternityX is their ideal business partner.
Understanding Consumer Behaviours To Empower Brands To Accurately Connect With Consumers
A one-time increase in brand exposure and sales is not the ultimate goal of digital marketing. EternityX has a clear understanding of the needs of brands, that brands need to be ingrained into the daily lives of their customers, and will need to consider the need of both existing customers and prospective customers.
Taking an example of an award-wining campaign we recently ran, a customized holistic marketing solution was provided to Hilton, an internationally renowned hotel chain – to explore the interests of their prospective customers, whilst targeting increase in hotel bookings of existing customers.
At the same time, EternityX also created a long-term marketing plan for Hilton, aiming to tackle some of its greatest challenges that Hilton is currently facing – over-reliance on OTAs, low penetration rate in the complex Chinese market and low ads conversion rate. EternityX was selected by Hilton as their partner for such solution given its extensive knowledge and experience in digital advertising in China. EternityX was able to increase such ROI to 1.5 to 2x!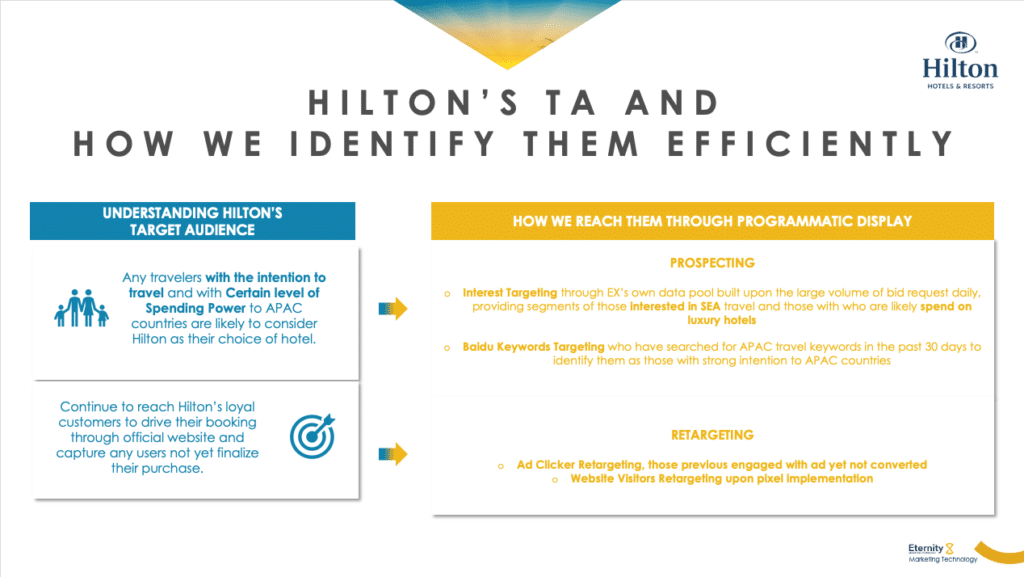 Through the analysis of massive amount of data from various data sources, EternityX's AI algorithms were able to study the whole decision-making process and derive useful insights on customers' real-time needs to boost conversion rate. Our technology built 360 degree user persona and classify them into different types of travelers according to their spending power, destination preference, travel frequency, duration of trips, and etc. EternityX's platform automatic optimization system is designed to achieve different marketing goals effectively and efficiently.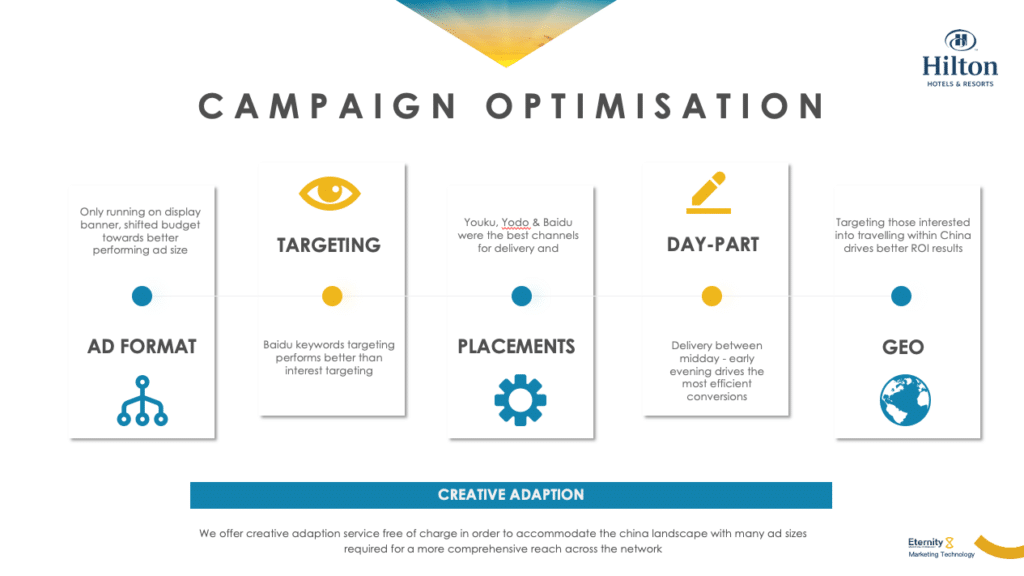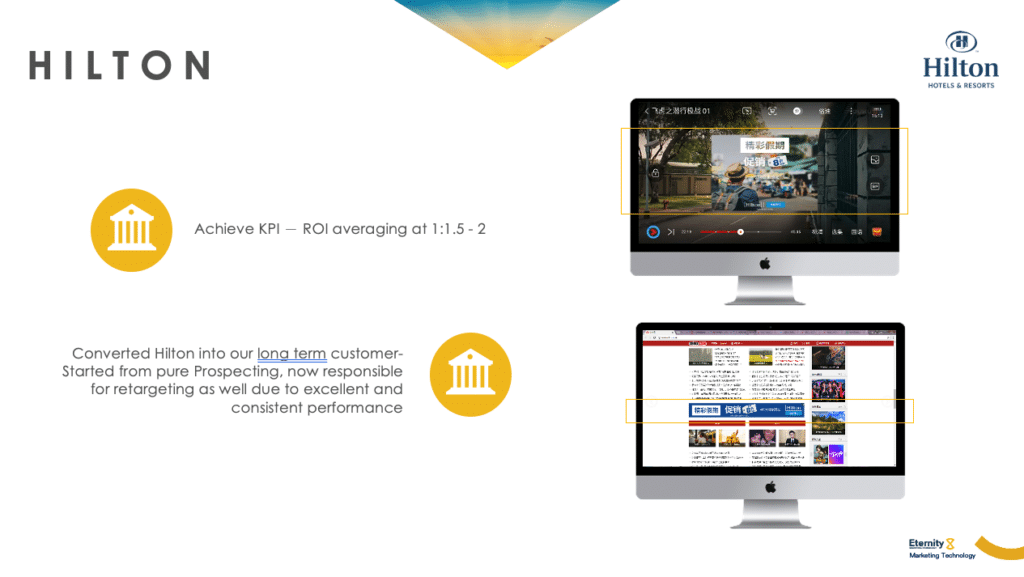 Simple Yet Powerful Offering One-Stop Marketing Solution
EternityX is an award-winning marketing technology platform. We are devoted to empower global marketers to precisely and accurately identify and reach their target audiences. Our technology constantly analyzing real-time data to boost both brand presence and conversion rate to maximize campaign results. Contact us for a consultation.